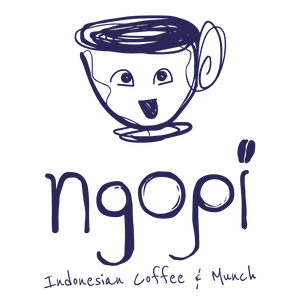 Who We Are As a Birmingham Coffee Shop
Ngopi is an independent coffee shop and munch located in Birmingham City Centre. We are here to fill the void of Indonesian-inspired food and coffees due to the lack of dedicated Indonesian cafes or restaurants around the Midlands. Owned by humble Indonesians, Ngopi opened its doors for coffee enthusiast in July 2018. The brand itself accounts for the act of drinking coffee. In Indonesia, we say "Ngopi Yuk!" to the other parties to ask them to have a coffee with us, that is why our tagline is "Let's Ngopi!"

At Ngopi, we offer some of the highly popular menu in our homeland such as Es Kopi Susu, Teh Tarik, Matcha Latte and Milo Chocolate alongside familiar coffee menu such as Cappuccino, Latte or Flat white. Other than coffee, Ngopi also serves authentic Indonesian light meals with modern twist such as Gado-Gado, Bakso, Risol, Pisang Bakar and more. If you are up to a truly authentic and unique Indonesian feast, just pop-in and we'll serve you our best products.
Our aim is simple - we want to be the very best like no one ever was. To produce the tastiest espresso and to brew coffee at its best, highlighting the natural characteristics of the beans. To be able to achieve this purpose, we roast our coffees in-house with our Indonesian-made roasting machine to preserve the freshness and aroma. Sourced from various regions of Indonesia, we converted beans into sublime roast that drinkers love. Although the majority of our coffees are acquired from our motherland, we do not preclude the possibility of having guest coffees from other parts of the world.
Apart from our retail shop for roasted beans made available online and in-store, we are open for wholesale business. If you'd like to know more about how our wholesale relationships work, or have any questions at all, then do please call us on 0121 4482870 or email us at hello@ngopi.co.uk